New Hyundai Hyundai Tucson vs The Competition for Sale in Greenwood, IN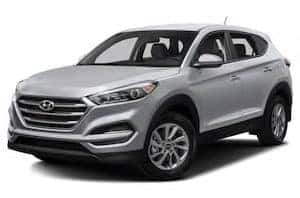 2017 Hyundai Tucson
$22,700
Starting MSRP
23 city / 30 highway
Est. MPG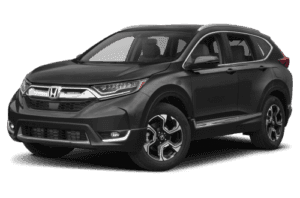 2017 Honda CR-V
$24,045
Starting MSRP
28 city / 34 highway
Est. MPG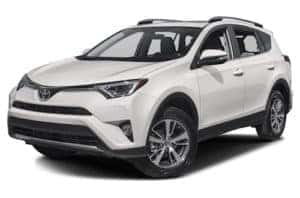 2017 Toyota RAV4
$28,790
Starting MSRP
23 city / 30 highway
Est. MPG
Ray Skillman Southside Hyundai
Hyundai Tucson vs The Competition
When shopping the small SUV segment, think big by choosing the one and only Hyundai Tucson.
Let's take a look at how the new Hyundai Tucson beats out its major competitors, the Toyota RAV4 and the Honda CR-V. After this, there will be no question about which ride is best suited for you and your family.

Value
Unfortunately for both Toyota and Honda, the conversation pretty much begins and ends right here. The Hyundai Tucson flat out gives you more for your money than either the RAV4 or the CR-V. At a starting MSRP of just above $22,000, the Tucson gives you all you want in a small SUV. Both the Toyota RAV4 and the Honda CRV can't touch this pricing, as they're priced considerably higher than the Tucson.
Add in Hyundai's unbeatable cash incentives, and it's a no-brainer. Currently, Hyundai is giving you up to $2,500 in cash rebates, as well as 0% APR for 60 months. Not to mention leasing specials of $199/mo. for 60 months. The Honda CR-V, however, currently offers nothing to you in terms of savings or incentives. At least the Toyota RAV4 can come somewhat close, with only $2000 cash back available and a lease special good only on the RAV4 LE FWD model. The big difference here is that Hyundai actually wants to make it easier for you to own a high-quality vehicle with the size, space, and versatility you need.
Although this info alone is likely enough for most to choose the Hyundai Tucson over the others, there's still more to consider.

Interior
Let's face it. We all care about what our vehicles look like on the outside, but we spend all our time on the inside. Hyundai knows this. That's why the new Tucson was created to impress both inside and out. The interior environment of the Hyundai Tucson is far superior to both the RAV4 and the CR-V. Inside the Tucson, you'll enjoy a far more quiet and refined ride than in the Toyota RAV4 or the Honda CR-V; which have both been described as leaving much to desire. In fact, the Car Connection has described both the RAV4 and the CR-V as unpolished and not so pretty. Again, the choice gets easier and easier for you.
Efficiency
This one is actually pretty close; sort of. All three vehicles offer similar MPG numbers in the city and on the highway. The big difference here is that the Tucson gives you a much larger gas tank at 16.4 gallons, making your stops at the pump far less frequent. That certainly goes a long way in winning over your favor. Simply put, the Hyundai Tucson costs less to purchase than either the Toyota RAV4 or the Honda CR-V, and it also costs less to own. After all, the money you spend is not as crucial as the money you save every day in your new Hyundai Tucson.
See It For Yourself At Ray Skillman Southside Hyundai.
There's one more important thing we haven't mentioned about the Hyundai Tucson. You can also get yours along with Indy's best service and buying experience; right here at Ray Skillman Southside Hyundai. Neither the Toyota RAV4 nor the Honda CR-V comes with Indy's best team of customer service experts. Considering the fact that where you buy your vehicle is sometimes as equally important as what vehicle you buy, make sure you're getting the very best for your time and money. It's all right here at Ray Skillman Southside Hyundai.
New Tucson Indianapolis
You know you're excited to put the new Hyundai Tucson in your driveway. Find yours now, along with Indianapolis's BEST service and value.
Pre-Owned Tucson Indianapolis
A vehicle this exciting and efficient is always in high demand. That's why it's easy to maintain a strong selection of pre-owned models to choose from.
Incentives and Rebates
The Ray Skillman discount is always above and beyond what Hyundai offers on new vehicles. Your new Tucson won't break the bank.
Experience the Skillman Difference
Buying a vehicle is a special experience. We understand that this isn't something our customers do every day, which is why we treat every interaction with the respect that it deserves. Ray Skillman has served the Indianapolis market for decades because we believe that the community and its people supersede any expectations set by a corporation. This is your community. This is our community. When you are shopping for a new or used Hyundai Tucson, you expect the experience to match the promise, which is why we are open and transparent every step of the way. Below, you will find more information about the Tucson. We hope that you'll contact us and allow us the opportunity to show you why buying from Ray Skillman Southside Hyundai really is the best shopping decision you can make.
Ray Skillman Hyundai Tucson
There's more to a vehicle demonstration than picking out colors and taking a test drive. At Ray Skillman Southside Hyundai, we want you to know everything that's important to YOU for your next new vehicle. The Tucson is uniquely positioned in the Indianapolis market because of our passion for incredible performance and versatility. The Tucson has the proper mixture of superlative style and driver-focused fun that's appealing to Indianapolis. Our team is here to make sure you're aware of every feature, tip, and maintenance best practice because we take pride in delivering the ultimate shopping experience for our customers. Stop into our hassle-free showroom to get a taste for just how incredible your new Tucson really is.
Attention to detail is important. You won't miss a thing when you shop at Ray Skillman Southside Hyundai.
---
We know you have many options when it comes to Hyundai dealers in the Indianapolis area. Our hope is that you will give us the first opportunity to earn your business because of the tremendous experience, great pricing, superb selection, and our commitment to making your buying experience the most positive one you've ever had when shopping for a vehicle. We stand behind the idea of delivering the type of respectful engagement that the people of Indianapolis deserve and if you give us the first opportunity, you'll see why our customers come back time and time again.
---
WHY RAY SKILLMAN SOUTHSIDE HYUNDAI?
Some dealerships take pride in their sales numbers. Others point to their P&L statements to determine their success. At Ray Skillman Southside Hyundai, the most important indicator of whether or not we're successfully achieving our goals is when YOU are overwhelmed by our outstanding customer experience. It goes beyond satisfaction. We want you to be ecstatic with the way you were treated and impressed with how easy it was to get the best Hyundai deal in Indiana. Your opinion is the one that matters at Ray Skillman Southside Hyundai. It's what drives our success.
---
Your Tucson Shopping Experience
We hope we've answered most of your questions about why you should consider Ray Skillman Southside Hyundai as your first choice when shopping for a new or pre-owned Hyundai Tucson. If you are ready to learn more, please contact us through your preferred method of communication and ask us anything you'd like to know. If you're ready to schedule your test drive, please use the form below. At Ray Skillman Southside Hyundai, you control your shopping experience. We're here to help facilitate and to be your personal Hyundai experts.